Circus or Theatre
The first show that garnered international attention for Circus Ronaldo in 1996 was developed on the road... Organically. Playfully. To the rhythm that makes trees grow. Its peculiar brand of showmanship grows from within, and each new branch is rooted in an old family tradition. This recipe is continuously enriched by an ever changing audience, new players, passionate compatriots and the strong influence of being on the road. By now Circus Ronaldo has been playing prestigious theatre venues and big Circus and Arts festivals all over Europe and far beyond, for over 20 years. They still visit the smallest villages in Flanders where they enthrall modest audiences with the same love and passion they display on the world stage. With shows like "Commediantentheater", "Lazzi", "Fili", "Circenses" and "Amortale" they toured from Reykjavik in the north to Lissabon in the south, from Canada to Australia to New Zealand. Thanks to this great success the circus was selected to be Flanders' official Cultural Ambassador in 1998.
With the now legendary show "La Cucina dell'Arte", brothers David and Danny Ronaldo have played almost 500 venues in over 20 countries and keep stirring and inspiring new audiences with their twist on artisanal, tried and true clowning recipes.
In his solo show "Fidelis Fortibus" Danny Ronaldo digs up the past and searches his strong emotions for a new future dimension. Fidelis Fortibus was nominated in 2016 for the theatre festival in Antwerp and in 2017 was awarded the Cultural Prize by the City of Barcelona. Fidelis Fortibus is a collaboration between Danny Ronaldo and Dutch theatre maker Lotte Van Den Berghe. This shows how Circus Ronaldo keeps nurturing the links between contemporary theatre and authentic, deeply rooted circus traditions.
With its "Swing" production, Circus Ronaldo also provides a launch pad for budding performers. A new generation of young circus artists play on old rhythms and tropes from the '40s with great abandon.
And ultimately, at the end of each year, three generations of performers gather around a big metaphorical dining table for "The Wondrous Christmas of Circus Ronaldo".
Circus Ronaldo consolidates the past with the future in a recognizable, pure experience of the present
It started with circus
It all began with Adolf Peter Van den Berghe who was born in Ghent in 1827. At the tender age of fifteen he decided to leave home and join the circus. From then on, the ordinary was traded in for the extraordinary. Adolf Peter Van den Berghe worked his way up from stable boy to being a renowned, widely admired equestrian acrobat. The Imperial Circus of Saint Petersburg even holds an engraving that bears his name.
In the Alsace-Lorraine, a region on the border between France and Germany, he met a group of touring comedians that performed pantomime and commedia dell'arte. He fell in love with Maria Cronenberg, a young actress with loads of imagination. Together they founded their own company. A special blend of theatre and circus was born. To this day, Circus Ronaldo embodies that blend.
All that is durable in life springs from love, coincidence or necessity.
Theatre
By the second and third generation of the performing family, the horses just pulled the long caravan of tent, decors and living wagons. The equestrianism, as well as the name 'circus' were phased out in favor of other needs and desires. The big travelling Folk Theatre Van den Berghe had become pure theatre with rousing productions of plays like 'Genoveva of Brabant' and 'The Two Orphans'.
But the nomadic wagon life with a wooden theatre tent, along with the circuslike desire to entertain people made it so that commedia dell'arte was never far off. In 1910 they built their own power generator and were the first company in Belgium to perform with light bulbs. That's how they accomplished a remarkable spectacle production of "Around the World in 80 Days" based on the novel by Jules Verne. It was a huge success with stunning scenes that for its time evoked great wonderment in audiences. The part of Jean Passepartout was played by Jan Van den Berghe, born in 1865, grandson to Adolf Peter.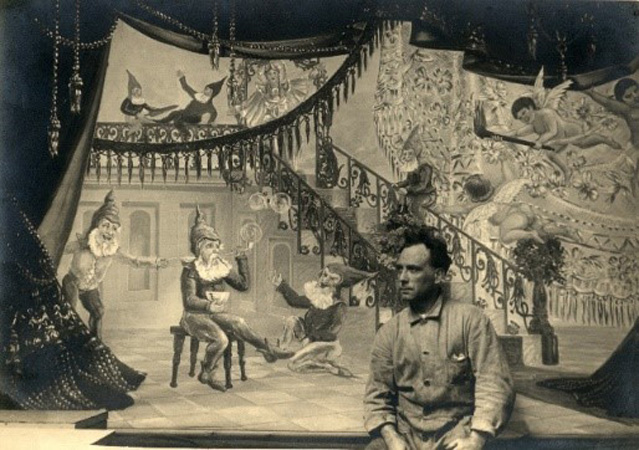 After a performance of this play in Mechelen, Jan Van den Berghe fell in love with a local girl called Serafina De Winne. They married in 1912 and that is how love determined where Theatre Van den Berghe, and later Circus Ronaldo, would have its home. These days, more than a century later, Circus Ronaldo is Cultural Ambassador of the City of Mechelen.
The end of the travelling theatre Van den Berghe
In 1933 the world crisis meant the end for the traveling folk theatre that was once dubbed "The Train Van den Berghe", a joke that makes sense in Dutch, implying that the caravan was as long as a train.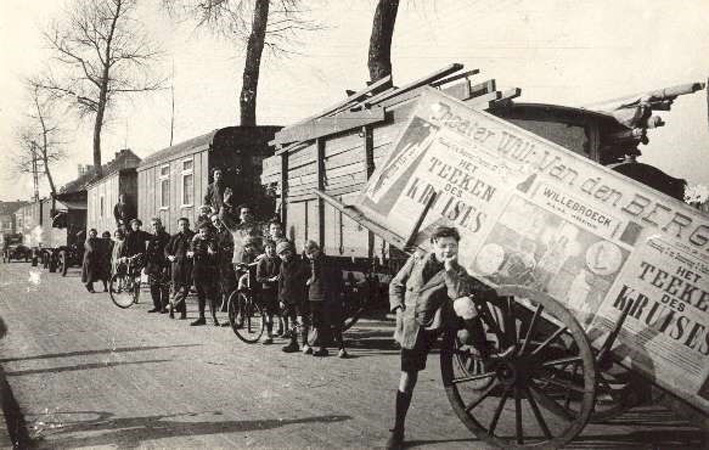 The extraordinary theatre caravan gradually disbanded at the start of the second world war and eventually the company was no more. Maria Van den Berghe (°1912), daughter of Jan Van den Berghe, performed as an actress and singer throughout the war, accompanied by her brothers. On foot and by train, laden with heavy items of luggage and frequenting cold and damp venues.
The fourth generation sought its way in variety theatre and the world of musicals. And of course the circus.
Return of the Circus
By the fifth generation, Johnny Ronaldo (born in 1933 as Jan Van den Broeck and son to Maria Van den Berghe), longed to have his own company. In 1971, with the help of his brother Herman and uncle Frans Van den Berghe, he founded a new company. They chose to emphasize the circus aspect, and built a round tent with a variety show draped in the glitter and glamour of the seventies.
At first the Circus was named 'Ricardo'. After two seasons Johnny and his wife Maria Van Vlasselaer (°1942) were suddenly on their own in having to manage the entire circus. It seemed impossible for a good bit, but through sheer spirit and perseverance they went on under a new name. 'Circus Ronaldo' was born.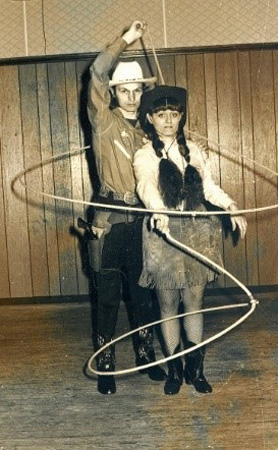 It became an unconvential journey with an old Fortson tractor that hauled the tent and wagons from village to village at a dizzying speed, often reaching 25 kilometres per hour. That's how the fragile little circus traveled through a world where screaming commercialism started to run rampant.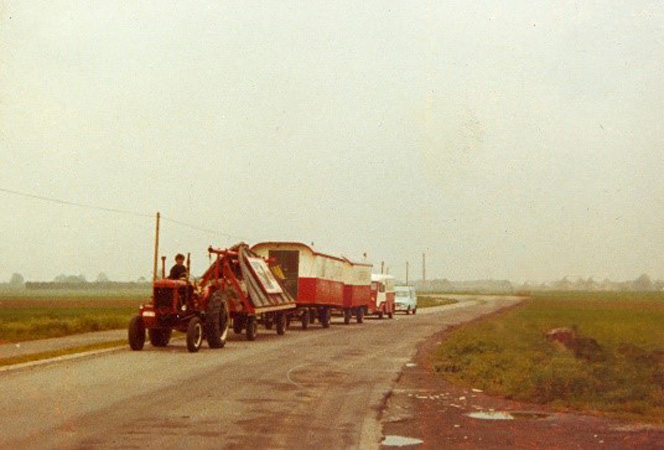 Circus & Theatre
David (°1966) and Danny (°1969) Ronaldo represent the sixth generation that is restoring the balance between circus and theatre. When they joined the family company, their youthful and naive innovations meshed with the ever present ghosts of tradition into a singular style of performance. David and Danny were inspired again by the old commedia dell'arte and tales of their family before them, but also have their noses pointed towards the future.
Commedia dell'arte is an ancient form of theatre and clowning, stemming from the early renaissance in Italy. Arlecchino and Pulcinella are amongst their most well-known immortal, archetypal characters.
The circus donned softer colours, a patina of old circus mixtures and deeper undertones that favored targeting the belly of the audience over its brain. The company grew and was continuously infused by special performers who enriched the company in their own way. Words were replaced by sounds, noises. A kind of universal babbling that transcends language, which gave the jesters a way to communicate with an international audience of all ages. Since 1996 Frans Brood Production in Ghent plans tours for Circus Ronaldo all over Europe. That's how they're conquering the hearts of a growing audience.
Their singular blend of circus and theatre, together with Cirque Plume in France and others elsewhere, set the tone for new generations of circuses in Europe. Circus Ronaldo visited international circus and theatre festivals with shows like "Commediantentheater", "Lazzi", "Brick a Barak", "Fili", "La cucina dell'arte", "Circenses" and "Amortale".
At the international mime festival in London they were lauded by the press as "the missing link between traditional circus and contemporary circus".
Future
And in comes the seventh generation of performers, contributing to the dynamic blend that can't really be classified anymore. The question of circus or theatre has become a moot point. Circus Ronaldo is just Circus Ronaldo. True to itself, and genuine.
The search for that magic that can't be put into words is ongoing. Looking for a measure that can't be measured. The beat of comedy. The depth of melancholy. The frequency where poetry comes to life and the limit where poetry dies and becomes pathetic.
The ensemble grows like a tree that wasn't planted by people. The fresh interplay between youthful exuberance and the sober wisdom of the older generation. Together in a natural symbiosis of performance and life in a special world. Circus Ronaldo plays to the beat of simplicity and genuineness. Reinforced and embraced by a creative group of extraordinary people. On the stage, in the circus ring, behind the scenes, in the workshops, on the road and behind the computer.